Switch Mode Power Supply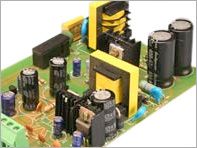 Switch Mode Power Supply
Product Code : SMPS
Brand Name : MIRACLE
Switch Mode Power Supply

We feel glad to introduce ourselves as the leading manufacturer, exporter and supplier of excellent quality Switch Mode Power Supply. It is an electronic power supply that incorporates a switching regulator to convert electrical power efficiently.This product is manufactured by our seasoned professionals using high quality raw material and modern technology. To ensure its flawlessness, the offered product is tested on various parameters by our quality controllers. Our precious clients can avail this Switch Mode Power Supply in various specifications at market leading prices.
Features:
Long working life
Smooth operation
Sturdiness
High performance
High Quality, High Efficiency, Universal Input, Single/Multiple Output, enclosed switch mode power supplies with screw terminals.Ideal for using communication computer peripherals, audio equipments, test equipments, instrumentation and business machine.
Wide Range Universal Input

Compact Design

Stainless Steel/ Metal Enclosure

Easy Installation - Screw Terminals

High Efficiency

Conducted EMI complies with EN55022-B

Short Circuit and Over voltage protection.
Technical Specifications:
Switch Mode Power Supply [SMPS]

Sl No

Input VAC

Out Put
VDC volt

Output
Amp

Power

PCB Size
[Open Type]

1

90vac to 265 vac

5v

0.5A

2.5w

74 x 35 x 23 mm

2

90vac to 265 vac

5v

1A

5w

74 x 35 x 23 mm

3

90vac to 265 vac

5v

2A

10w

74 x 35 x 30 mm

4

90vac to 265 vac

9v

0.5A

4.5w

74 x 35 x 23 mm

5

90vac to 265 vac

9v

1A

9w

75 x 40 x 30 mm

6

90vac to 265 vac

9v

2A

18w

75 x 40 x 30 mm

7

90vac to 265 vac

12v

0.3A

3.6w

74 x 35 x 23 mm

8

90vac to 265 vac

12v

0.5A

6w

74 x 35 x 23 mm

9

90vac to 265 vac

12v

1A

12w

75 x 40 x 30 mm

10

90vac to 265 vac

12v

1.5A

18w

130 x 55 x 35 mm

11

90vac to 265 vac

12v

2A

24w

130 x 55 x 35 mm

12

90vac to 265 vac

12v

2.5A

30w

130 x 55 x 35 mm

13

90vac to 265 vac

12v

3A

36w

130 x 55 x 35 mm

14

90vac to 265 vac

24v

0.3A

7.2w

75 x 40 x 30 mm

15

90vac to 265 vac

24v

0.5A

12w

75 x 40 x 30 mm

16

90vac to 265 vac

24v

1A

24w

130 x 55 x 35 mm

17

90vac to 265 vac

24v

1.5A

35w

130 x 55 x 35 mm

18

90vac to 265 vac

24v

2A

48w

130 x 55 x 35 mm